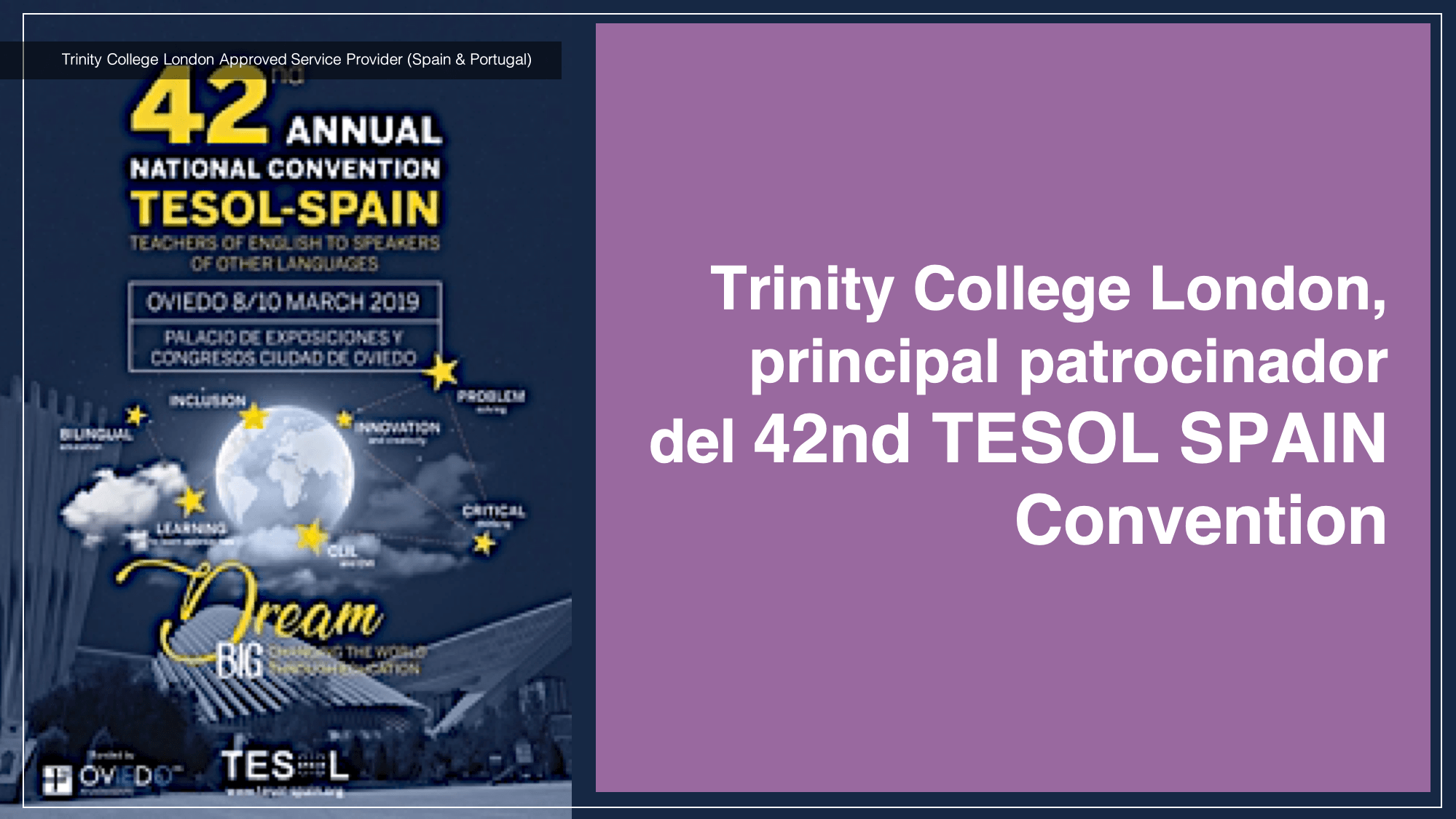 Trinity College London, principal patrocinador del 42nd TESOL SPAIN Convention
En esta 42ª edición de la la Convención Anual de TESOL-Spain, que tendrá lugar en el Palacio de Exposiciones y Congresos de Oviedo del 8 al 10 de Marzo, Trinity College London participará como único patrocinador Platinum.
Además del mencionado patrocinio, Trinity tomará parte organizando una de las más de 100 ponencias y atendiendo a los profesores de primera mano en el stand en la zona de expositores.
La presentación organizada por Trinity será a cargo de Robin Walker y llevará el nombre de From being intelligible to being you – a pronunciation syllabus, en la que se explorará la necesidad de usar un syllabus de pronunciación para eliminar la aparente contradicción entre enseñar pronunciación en inglés como idioma extranjero (EFL) o como lingua franca (ELF). Tendrá lugar el sábado 9 de marzo de 10.45 a 11.45h en la sala "Cristal".
Otros plenarios a los que los participantes podrán asistir son:
Plenario de apertura - J Wilson: Sky's the limit: six lessons from an unlikely place
Plenario del Sábado - David Marsh: English Language Teaching & Learning: Change of age or age of change? 
Plenario de cierre - Teresa Ting: Dreaming, Learning and Educating…with the Brain in Mind
Además, los asistentes a la 42nd TESOL-Spain Annual National Convention (Teachers of English to Speakers of Other Languages, o Profesores de Inglés para Hablantes de Otras Lenguas, en castellano)  podrán obtener 2 créditos en concepto de formación de profesorado gracias a la homologación llevada a cabo por TESOL-Spain con el ministerio de Educación.
¿Nos vemos allí?
¿Quieres recibir nuestro Newsletter, promociones y acceso a talleres exclusivos?